FREE 7-PAGE FLYER: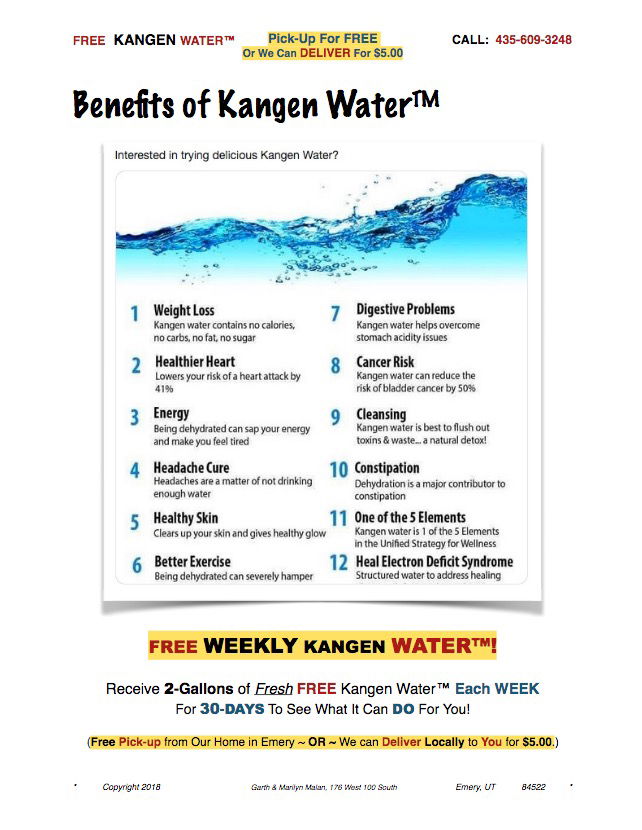 7 Page FLYER Offers... FREE WEEKLY KANGEN WATER™! Receive 2-Gallons of Fresh FREE Kangen Water™ Each WEEK For 30-DAYS To See What It Can DO For You! (* Free Pick-up from Our Home in Emery ~ OR ~ We can Deliver Locally to You for $5.00.)
TO DOWNLOAD FREE 7-PAGE FLYER:

1) Simply click on the link provided below to download it to your computer, laptop or cell phone: Kangen Water™ - Benefits of .pdf
-> QUESTIONS, call Garth and Marilyn Malan at: 435-609-3248 MST... USA. (If not available, leave Name , Number with Area Code and Brief Message and we'll return your call shortly.
Or send your questions to: YourQuestionsAndConcerns@gmail.com
(Closed Weekends and Holidays.)
THANK YOU FOR INQUIRING!
Enjoy your free information: Kangen Water™ - Benefits of .pdf
To Return To The Main Page, Click On Your Return or Back Button.